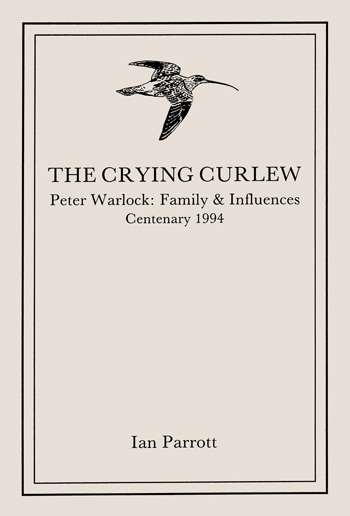 The Crying Curlew: Peter Warlock Family and Influences
By Ian Parrott
Philip Heseltine ('Peter Warlock') was a colourful personality and outstandingly original British composer. His masterpiece, The Curlew, was completed in mid-Wales in 1922. This book is printed by Gomer Press, Llandysul, Dyfed, SA44 4BQ and published in association with the Peter Warlock Society (Hon. Sec. Malcolm Rudland, 32a Chipperfield House, Cale St, London SW3 3SA) of which Ian Parrott is a vice-president.
The Society was founded by Patrick Mills, an Advisory Committee being set up in May, 1963, with Gerald Cockshott, chairman, and Ian Copley, Arnold Foster, Christopher le Fleming, Tony Payne, Norman Gilbert, Frank Howes and Felix Aprahamian. Copies may also be obtained from the Welsh Books Council, Glanyrafon Industrial Estate, Aberystwyth, Dyfed SY23 2JB.
Professor Parrott's interest in the composer dates back to his undergraduate days at New College, Oxford, when on 30 May 1937 he conducted a concert of Warlock's music at St Hugh's College. His article, 'Warlock In Wales', which appeared in The Musical Times of October 1964, helped to show that there was much to be discovered about the family in mid-Wales.
Ian Parrott is a composer, whose Luxor won the Royal Philharmonic Society First Prize in 1949. He is also a vice-president of the Elgar Society and of the Guild for the Promotion of Welsh Music. He was Gregynog Professor of Music at University College, Aberystwyth, from 1950 to 1983, where on 30 November 1953 he put on A Cornish Christmas Carol (No.2) in Cornish – probably a unique occasion, as noted by Dr Copley in his 'The Music of Peter Warlock' (Dobson 1979).
---
Buy from: Amazon
Further information: Google Books
Share This Story