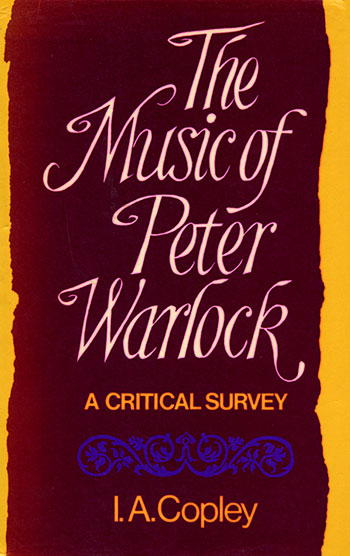 The Music of Peter Warlock A Critical Survey
By I. A. Copley
Peter Warlock (1894 – 1930) is one of the great song-writers of the English tradition, and among composers of modern times the only one who can bear comparison with the masters of the Elizabethan-Jacobean tradition. His imagination, indeed, was fired by these masters whose ideals he revivified in more ways than one.
Warlock was a pioneer of musicology and his contribution to the present general knowledge of 17th century music was very great. But he was also a composer of vision, who knew intuitively what was music and what was not. His style, compounded from a deep appreciation of both ancient and modern techniques and a rare insight into literary values, is as complex as it is enchanting. This much is known to all those who love his famous songs.
Dr. Copley's analysis of the nature and structure of Warlock's music is precise and illuminating. Based on an examination of the whole of the music, both published and unpublished, and on a consideration of Warlock's contemporaries, this book must be regarded as the authoritative work on the composer.* It deals with general questions but also individual works, and is amplified by invaluable catalogues raisonés. There are a large number of musical examples as well as pictorial illustrations.
*It is lovingly and beautifully written – there was an inordinate delay in publication which meant that new information had come to light between completion and publication. Tim Haillay
---
Further information: Google Books
Share This Story